i just realized something.. you guys probably know the song Kamikazee's Narda, right? isn't it that there's a line there that goes
sa likod ng mga tala, kahit sulyap lang Darna..
? tapos di ba Darna has a star in each cup of her bra?
subliminal and sleazy.. i don't know why, pero i like it even more tuloy.. hehe..
---
Britney was also accused of slipping subliminal messages in her songs.. this would seem ordinary, but hers were obtained by backmasking her songs..
geez, the things people do to get attention.. *rolls eyes*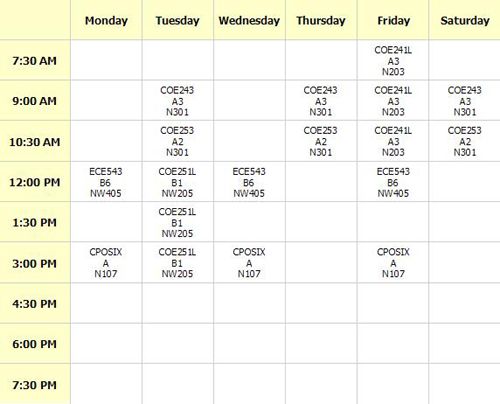 god help me with this one.. haha..
thank god my mom already gave in.. buti nalang i managed to convince her.. i can't imagine what i would do if she didn't.. thank god!
yesterday, I had a little chat with my
tito
in California.. he said that most probably we'd be out of the Philippines before the year ends.. why so soon? mami-miss ko ang pinas..
besides, I didn't get my hopes up too much.. I've heard them say that a lot of times before, and somehow we're still here.. pero my
tito
showed me proof that we'd actually be leaving soon: he showed me the online
VISA bulletin
of the US embassy.. he talked a lot about us being petitioned in august of 91, and that we were classified under 3rd priority.. since the queue has already started going through those petitioned in 1991, malapit na daw kami.. sana lang totoo na ito..
tapos, we also talked about which university they'd send me off to.. I
previously
expressed my desire to study in CalTech or MIT.. pero, after learning that studying in either will cost us $50k a year, I'd rather study in UCLA or UC Berkeley nalang, at $5k per year..
then why the hell am i wasting my time here studying? joke lang..

kanina, nung naliligo ako, nagsimula nang umambon.. naisip ko, nakupo, pahirapan nanaman sa pagpunta sa simbahan.. nang nagbibihis na ako, biglang lumakas ang buhos ng ulan.. nang handa na kaming umalis, saka lang namin napansin na sobrang baha na sa labas..
ewan ko kung matatawa ako o ano..
ayan.. sunday na.. for the first time this year, magsisimba na ulit ako..
bakit ngayon lang ulit?
magagalit si mama kung hindi ako sasama.. at hindi yung galit na magtatampo lang, kundi galit as in mag-aalburutong galit!
bakit ayaw ko?
ewan ko rin.. siguro dahil na rin sa pag-aral ko sa isang science high school.. nung bata pa ako, sinabi nila na ginawa ng Diyos ang mundo in 7 days.. nang tumungtong ako sa high school, natutunan ko kay Mam Connie ang Big Bang at kay Mam Eden ang primordial soup, na siyang pinagmulan daw ng lahat-lahat ng nakikita natin..
isang dahilan na rin siguro ang mga inconsistencies na kasama na sa Catholicism.. i mean, yung trato nila sa mga scientists noon, yung commandment 1 & intercessions, commandment 2 & the idols, etc..
pero Katoliko parin ba ako?
uhm, technically, oo.. pero dahil na rin sa pagmulat sa akin nina Mam Evangelista [prof ko sa Humanities] at Sir Orcena [sa Sociology naman], na-realize ko na ang tamang tawag sa akin ay isang Agnostic.. at least alam ko na..
pero naniniwala parin ba ako sa Diyos?
oo naman.. ewan ko kung bakit, pero, oo, naniwala parin ako sa Diyos..
pretty is in the eyes of the beholder.. beautiful is in the soul..
so true, so true.. intrigues me so much, it makes me want to watch
Nip/Tuck
tuloy..
i figured this could be the work of spyware, so i installed a spyware-removal app and immunized this PC.. but it still rejects antivirus installation..
what the hell is wrong with this PC?
---
i can't get my mother to listen to what i have to say..
the more i try to make her understand my situation, the more she tries to make up some lame excuse to keep me from explaining my side..
is this generation gap, or is my mom just really not the open-minded person i thought she was?
philippine science high, thou stands above with thy thoughts that lift,
and fit all thy sons with wings, to lend us flight in the sowing of our gifts..

oh, philippine science high, thy wisdom arms our youth,
as we reach for our dreams, as we strive for our goals, as we search for the untarnished truth..

philippine science high, the PSHS in us will grow,
and go as we wonder o'er, the crests and troughs of the sea of life that flows..

oh, philippine science high, thy light our beacon be,
in our path through the world, in our fight for our right,
in pursuit of a glorious dream..
malapit na ang graduation day ng kapatid ko.. naalala ko tuloy yung akin.. isa yun sa mga araw na hinding-hindi ko malilimutan.. hindi lang para sa mga magagandang ala-ala na iniwan nito, kundi para rin sa napakaraming bagay that went horribly wrong that day..
tama na.. kukulo lang lalo dugo mo..
yesterday afternoon, my mother called me to say na pinapauwi na niya ako.. sayang, marami pa naman akong plans.. meet-ups para sa yearbook namin, outing para sa birthday ni shine, magturo ng english sa mga koreano.. haay..
at least mapapanood ko na yung Britney DVD na binili ko nung
January
pa.. w000t!
first
doctrine
somehow came true.. will she be right this time?
She's The Man
has so many levels.. i wouldn't normally say that i can relate to that movie, but i do.. i really,
really
do.. i just don't know why..
the word
arcane
has so many levels.. it explains my personality.. it explains my taste.. it explains my friends..
the song
where are you
has so many levels.. don't ask.. i won't tell..
so many levels, so little wiggle room.. frustrates me even more..
---
tae, hindi pa ngayon yung exam nung scholarship sa japan.. sa june pa pala.. ba yan!
tapos, the exam will put
a lot
of emphasis on nihonggo fluency.. tapos i have to take proficiency exams on two sciences.. paano na yun? i'll be spending the one-month vacation attempting to learn a foreign language.. not to mention brushing up on physics and chemistry..
so much for a vacation.. pfft..
---
anyone got an mp3 of this song? all time fave song ko ito.. very heartwarming kasi..
and if by chance you have a clear copy of the full version of the McJelly trio jingle, you mind sharing it with me? LSS ko yun ngayon, e..
update
my johari window
..
---
i didn't push through with the scholarship exam kanina.. well, almost.. my dormmate glady somehow convinced me to..
when we arrived at CSB, we rushed to the entrance to ask the guard if their office is still accepting applicants.. they told me we didn't make it, since the cut-off was at noon, and they already started the exam...
but we can come back monday if we want to! the japanese hosts decided to extend the application period to monday..
at least i can brush up on my math and science.. w00000t!
thursday night my mother called me to ask me to run a couple of errands for her.. the first one's about my brother's UST application [his requirement submission conflicts with his graduation day].. the next one's for me to call CSB regarding a scholarshup for japan..
nagulat ako.. para sakin pala yung isa.. so, yesterday i called the numbers posted in the broadsheet ad, and after numerous busy tones, it finally picked up.. after entering a lot of locals, one came through and a girl received my call..
tae, the exam consists of exams on
science
,
math
, and
nihonggo
.. the science and math parts, i can do, but nihonggo? naknang naman..
kaya tuloy hindi nanaman ako matutulog ngayon gabi.. crash course on the japanese language..
kala ko matatapos na kalbaryo ko pagkatapos ng finals.. inde pa pala..
taena, ayos din yung
experience
.. sobrang haba nung pila, papasok ng ELJ building.. after almost 2 hours ng paghihintay, nang papalapit na kaming dun sa airconditioned part, kinuha yung ID na may control number na binigay samin sa start nung pila.. pagkatapos nun, pinapasok na kami..
excited yung iba.. kami, wala lang.. ini-direct kami nung mga sekyu kung san dadaan.. tapos dumating sa isang part na hindi na siya glitzy, na gray nalang ang walls and may mga pipes na nakalitaw.. nag-joke ako: "
antagal natin pumila, tapos diretso na pala tayo sa exit.. haha..
"
p_cha, bumungad nga samin ang gate.. yun na yun..
nung una, hindi pa kami makapaniwala ni tin.. anong nangyari? yun na ba yun? ganon ba kabilis ang mga pangyayari at hindi man lang namin napansin na may sumuri na sa amin?
nung na-compose na namin ang aming mga sarili, na-realize namin na medyo astig din ang screening nila.. mala-Big Brother talaga.. ino-obserbahan ka nila habang nakapila ka palang.. kaya pala sinabi nung sekyu dun sa mga malapit samin, nung nasa may bandang end na kami, na wag daw mag-ingay, kasi malapit daw kami sa area ni direk..
nakakatawa.. nakakaloko.. nakakabaliw..
next time, sa senior edition nalang..
UBE
[
Ultimate Bonding Experience
] na kumpleto kami! woohoo!
get to know the UBE gang:
L-R: Monarch, Kristine, Janessa, Lorraine, Pierce, Reneiro, Angelique
i was navigating myself through
peyups
when i came through
odessa
's
math17 article
..
reminded me of how outraged i was upon reading numerous posters' comments.. i don't think they got the message she was trying to convey.. hell, they just don't sense the sarcasm in her post..
just one of my numerous arcane friends.. yet we understand each other perfectly well..
B
umaba ako sa jeepney kung saan tayo'y dating magkatabi.. Magkahalik ang pisngi nating dalawa..
P
anyo mo sa aking bulsa, ang amoy mo'y naroon parin.. Tawa nati'y humahalay sa init nating dalawa..
A
t ngayo'y wala na, tapos na..
N
aaalala ko ang mga gabing nakahiga sa ilalim ng kalawakan.. Naaalala ko ang mga gabing magkatabi sa ulan..
K
ulay ng iyong ngiti at tikwas ng iyong buhok.. Ang lambot ng iyong labi..
K
ahit anino mo sa malayo ay nais masulyapan upang mapawi ang lamig..
S
ubalit ngayo'y wala na.. Ikaw ay lumayo na..
M
agkatabi sa ulan, Dungawin ang araw..
---
di nababagay sakin ang ganitong kanta.. di ko nga lang alam kung sino sa aking buhay ang tinutukoy nito.. ipinagtataka ko lang kung bakit ito ang pinagsisigawang ng puso ko ngayon..
mahirap maipaliwanag, ngunit mas mahirap maintindihan..
There is someone out there for me
I know she is waiting so patiently
Can you tell me her name?
This life-long search is gonna drive me insane
How does she laugh? How does she cry? What's the color of her eyes?
Does she even realize I'm here?

Where is she? Where is this beautiful girl?
Who is she? Who is gonna complete my world?

I'm staring out at the sky
Praying that he will walk in my life
Where is the man of my dreams
I'll wait forever, how silly it seems
How does he laugh? How does he cry? What's the color of his eyes?
Does he even realize I'm here?

Where is he? Where is this beautiful guy?
Who is he? Who is gonna take me so high?

---
i only just realized that i'm arcane in my own right..
maybe that's the reason why
i'm still waiting
for the right one..
PEOPLE POWER shirt
, only his was in royal blue..
at least hindi lang ako ang naastigan sa shirt na yun.. pati baka ngayon mabawasan yung mga taong nag-iisip na aktibista ako..
---
delikado ako sa
admath
ko.. kailangan kong ma-prefect ang exam para pumasa.. well, actually, hindi pa sigurado yun.. kung magawa ko man yun, ipagdadasal ko parin na magbaba si Sir Ang ng passing grade.. pag ginawa niya yun, siguro papasa na ako..
precisely the reason why i'm staying up all night tonight.. review to the max na ito!
---
had a haircut yesterday.. p_ksh_t yung bading na nag-
ayos
[kung matatawag mong ayos yun] sa buhok ko!
sh_t, pag sinabi layered, di ba isa lang naman yung style na yun? pati kung may iba man itsura yun, damn, ilang beses na akong nagpagupit sa place na yun.. ngayon pa tinopak!
t_ng_na, sobrang ikli nung ginawa niyang gupit! parang kagagaling ko lang sa semi-kal.. hindi talaga bagay sakin.. leche!
the sole reason why i wanted to get my hair done before the school term ends ay para makita naman ako ni crush na mas maayos ang itsura.. taena, mas nagmukhang gago ako sa bago kong gupit e..
hindi na ako babalik dun, swear!
---
p_cha, minamalas lang talaga ako ngayon araw na 'to!
finals week na sa Mapúa! actually last sunday pa nagsimula, pero ngayon at bukas lang yung mga exams ko..
i just finished my
sociology
exam.. stuck knowledge and reading comprehension lang ang kailangang gamitin.. sisiw.. hehe..
tapos, my
humanities
exam will be in around 2 hours.. di pa ako nagre-review dun, e andaming concepts na kailangang i-memorize dun.. inde naman siguro ako sasablay dun, nakikinig naman ako, e..
bukas, tatlo naman ang exams ko.. una yung
electromagnetics
[
elemag
], pero sana hindi ko na kailangang mag-take ng exam dun, kasi feeling ko pumasa naman ako sa pre-finals namin dun.. e pag okay na ang standing mo, kahit wag ka na mag-finals..
sa
safety engineering
[
safety
] naman, wala lang yun.. common sense lang ang gagamitin..
ang pinaka-kinakabahan akong subject ay sa
advanced engineering math
[
admath
], kasi naman, isa lang ang pinasa kong quiz.. dito pa ako nakatikim ng kauna-unahang quiz na zero.. tapos, sinabi pa mismo ni sir na mag-prepare daw kami ng
at least 2 large test booklets
.. taena naman, bat ganun?!
god save me.. god help me, please!
---
birthday ni
kafatid
kahapon.. sira phone ko, so naki-text nalang ako sa roommate ko..
Haberdi
,
Colm
!
---
i finally bought a flash drive.. 5 months overdue na ito, gift ng parents ko sakin.. ngayon lang ako nakabili.. hehe..
sobrang elegant ng looks niya.. intense blood red, rounded curves, sleek lines.. tapos for a 512mb model, P1700 lang siya.. super sulit na talaga..
kaso mauubos nanaman pera ko.. mismanagement nanaman sa pera amf!
---
akala ko, magandang mag-transfer sa UP.. and then, i saw
this
..
no thanks nalang..
nung una, di ko pinansin.. basta pag-rinestart ko yung phone, okay na.. pero after sending a few messages, dun na talaga tinopak..
nakakainis.. sayang yung unlimited ko.. namimiss ko na rin ang mga ka-text ko..
masama pa dun, naka-save sa phone memory ang contacts ko.. that means, if i resort to reformatting, all the numbers will be deleted as well..
nung pumunta ako sa SM Manila to get it fixed, taena sobrang mahal na ngayon ng reformatting service! dati P300 lang, ngayon P800 na! leche..
nakakainis naman.. laking perwisyo..
originally posted 06 March 06, 09:51 PM..
ako na nga ang gumawa ng lahat, tapos he's talking as if i didn't do anything..
burn in hell! tangina.. sinisira mo araw ko..
since the start palang of the school term ganyan na sila.. gusto ko mang mangopya, e takot naman akong mahuli.. pag nangyari yun, madudumihan ang record ko sa prof, baka ibagsak pa ako, at worse, madudungisan ang pangalan ko.. in my opinion, it's not worth the risk..
pero tao parin ako, kaya kanina, napikon na ako.. so first time kong gumawa ng kodigo para sa exam.. late pa nga ako pumasok para lang tapusin yun.. kumuha ako ng 1/16 ng bond paper, sinulat lahat ng mga formulas dun, tinago sa slide lid ng calcu ko, at kinakabahan na pumasok sa klase..
leche.. nagpa-open notes ang loko.. i'm not complaining, pero, sayang yung effort! hehe..
baka ayaw nga talaga ng Diyos na mandaya ako sa exam..
tae, the stealing incidents in our room have got to stop.. we gave the thief a chance to save his face, so we posted this so that this may serve as a fair warning to him..
my roommate Bjorn started the note, then i just added my note later.. in it i was supposed to put there "
mamatay ka na sana!
", kaso i remembered that i was gonna get back the P1500 i lost from him.. uy, sayang din yun, pambili ng mas malaking flash drive..
shame it was removed by a personnel.. she said that it was too degrading, that it was against dormitory rules, and that we won't be able to catch the bastard if we don't remove it..
onga naman.. paano ko nga naman siya masisingil kung ganon..
medyo "
controversial
"ako lately..
yesterday, i wore this cute shirt i bought three weeks ago.. it says
PEOPLE POWER Edsa Revolution 1986
.. since medyo boring ang wardrobe ko at repetitive yung colors, so i opted to buy the yellow-orange shade of the shirt..
nung sinuot ko na siya sa school, nagulat ako sa mixed reactions na natanggap ko.. akala ng iba, activist ako.. may mga nagsasabi naman na maka-Cory ako [
nakalimutan ko pa naman na yellow was Cory's color
].. sakto pa man din yung shirt sa political crisis na kinakaharap ng bansa natin ngayon..
aside from that, today i sent out a text message that went like, i was going to get married on april 31.. some texted back na luma na daw yun, pero mas marami yung nagtanong kung bakit daw ganun, kesyo sobrang unexpected daw yun, especially from me.. a lot of them didn't get joke [
that there isn't even an april 31
]..
ewan ko kung matutuwa o matatawa nalang ako sa kanila..
my friend
and
her BF
:
uy, alam mo ba? ash wednesday na sa (march) 1..
ows, talaga? buti nalang sinabi mo..
o di ba.. teka, anong araw yun?
nampucha naman.. harhar..
and you thought you were the only one watching..